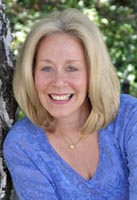 Through an artist's eyes the world is a constant canvas, ever-changing in palette and presentation. Los Angeles based artist, Marilyn Rothman, naturally gravitates towards the abundant beauty around her. Her innate optimism and sense of serenity are revealed through her peaceful settings and interpretation of light and form. A colorist, she paints her oils in layers, each layer veiling the one beneath to create a visual field of dimension and vibrant color.
Marilyn is comfortable working with oil and acrylic paint. To create her subject matter she observes, combines and often invents her images. The final painting is a "calculated surprise" but the goal is to communicate with the viewer and to share what inspires her. Marilyn's body of work is varied and includes landscapes, floral portraits, still life and a smattering of pop art.
In addition to painting, Marilyn holds a variety of degrees and has enjoyed several successful careers. She holds a dual Bachelors Degree in Sociology and Psychology from UCLA, as well as a lifetime credential in teaching. She enjoyed working in the classroom as a teacher and then a reading specialist, and later completed her Masters Degree in Educational Administration. Marilyn left the school system to raise her two children and then entered the business world. Her social intuition and educational experience were instrumental in helping hundreds of teachers and administrators find employment in independent and private schools throughout California.
Purely by chance, Marilyn took a detour that would later set the course she now follows. She enrolled her young children in an art class at the Brentwood Art Center, experimenting with paints and mediums alongside her young son and daughter. She was fascinated by the process and its rewards and when she discovered her love of painting, it quickly became her passion. Marilyn studied with Deda Jacobson at the Brentwood Art Center and later worked under the direction of Cheryl Kline at Kline Academy. Her work has been featured in several exhibitions and galleries and can be seen in private collections throughout the United States.
Marilyn's studio in Los Angeles is the sanctuary where her surroundings inform the ongoing commitment to her art. She paints everyday under the watchful eyes of her dog, Oliver.